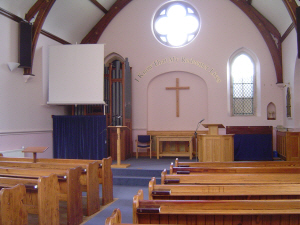 Sunday 10:45am
Sunday 6:00pm
Our 10.45 services are led either by our minister or by visiting preachers from the Circuit or further a-field.  These services vary in worship style and include traditional services with Wesley and similar hymns as well as more contemporary worship using the very latest worship materials including original worship songs.  Communion services are held regularly and we even have 'Big Breakfast' worship opportunities in the hall!  All hymn/song words are projected onto a large screen via Powerpoint, together with other materials, and large-print versions of hymns/songs are also available.  The music is led either by the organ, piano, the worship band or by a combination of any of these.  Our church is also fitted with a loop system.
Our 6.00 services are held in the Sunday School Room except on the 2nd and 3rd Sundays each month when, respectively, we either share 'Worship for You' at Woodlands or lead a short service for the residents of Streets Meadow in Wimborne.  The services which are held at Holtwood are again led either by our minister or by visiting preachers and the music is led by piano.
During the current Covid crisis our premises have had to remain closed although, since 6th September, our streamed services have also been available to view in our Hall, subject to social-distancing and other safeguards.  These can also be viewed at www.facebook.com/holtwoodmethodistchurch/live  We hope to return to 'live' services in the coming weeks.