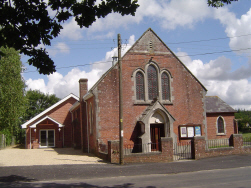 Holtwood Methodist Church has been described as a "Spiritual Oasis" set in a beautiful rural location a few miles north of Wimborne in Dorset.  Our aim is to serve God in our community and beyond, to help to spread the Good News that Jesus is alive today and that, through faith in him, we too can enjoy life eternal.  The great commission given to Christians by Jesus is that we must take this Good News to everyone – so that we may all decide for ourselves whether we are on Jesus' side or against him – for there is no middle road!  
During the Covid crisis our premises generally had to remain closed although online pre-recorded services were available on Facebook and, since we've been able to physically meet again in the church itself, we're continuing to live-stream our services on Facebook – and you can view these services at times to suit you at  www.facebook.com/holtwoodmethodistchurch/live 
These services have been viewed by 100′s of people, many of whom do not attend our church or any church.  And so our challenge for the year(s) ahead, as part of the great evangelical commission given to us by Jesus himself, will be to build on these contacts so that more people can hear the Good News and come to know Jesus as their own personal saviour.
Our Christchurch & Wimborne Methodist Circuit website is here where you can also find out what's happening in the Circuit and at other churches locally – and further afield.